Coutts Drafting staff have detailed a wide variety of structures across the Industrial, Commercial, Residential and Mining sectors. These include: Warehouses, residential dwellings, apartment blocks, portal frame buildings, pipe racks, piping support structures and modules, gantries and chutes, walkways, grating, standard and custom handrail, bridges, complex shade structures, schools, mezzanines, multipurpose structures and all types of commercial buildings.
Concrete tilt panel drafting
Coutts Drafting offers a tilt panel detail drafting service in conjunction with structural steel detailing on industrial projects if the need arises. This has the obvious benefits of modelling the entire structure, tilt panels and steel, in the same model (and in the one company) and it will therefore be clash checked together. This eliminates the risk of any data transfer errors between offices and enables the client to construct in confidence.
Coutts Drafting can offer structural drafting services and help you with any preliminary layouts you need drafted either in 2D or 3D and also assist with any Overflow drafting needs you may have. ​Please call to discuss!
Structural drafting
General 2D or 3D drafting
Coutts Drafting can help you design, develop and bring your ideas and new concepts to the 3D modelling environment, process the data out to manufacturable requirements and then direct you to a trusted fabricator for a final product.
​
Structural steel detail drafting traditionally makes up the majority of our work, however Coutts Drafting is equally adept in other drafting services including Structural drafting; Product development; New concept work; Concrete tilt panel drafting; General 2D or 3D drafting and any overflow work. Comprehensive QA check lists ensure that all end product models and drawings exceed industry standards and keep clients both satisfied and loyal. 20+ years of Steel detail and Structural Engineering drafting experience along with a respectful working relationship with Engineers & Architects on all projects undertaken ensure a strong result with no hidden surprises.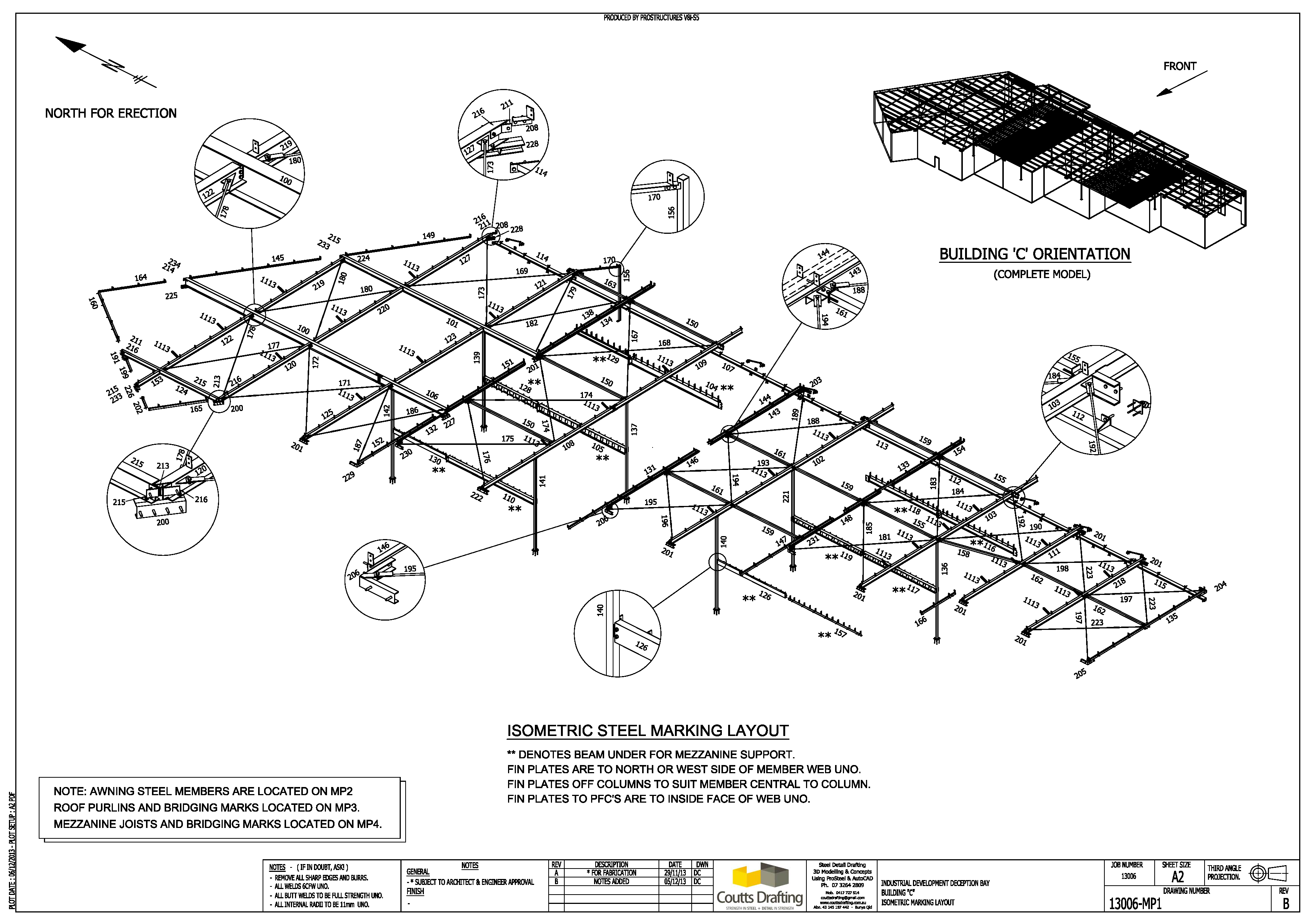 3D Isometric Steel Marking Plan
Steel Detail Drafting Coutts Drafting
3D screenshot - Coutts Drafting
Steel Detail Drafting Coutts Drafting
3D screenshot - Coutts Drafting
Steel Detail Drafting Coutts Drafting
Model Isometric - Coutts Drafting
Steel Detail Drafting Coutts Drafting
Model Connection - Coutts Drafting
Steel Detail Drafting Coutts Drafting
Tilt Panel Elev - Coutts Drafting
Steel Detail Drafting Coutts Drafting